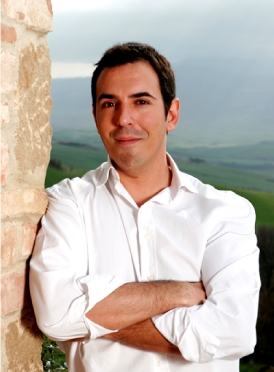 About the founder
Andrea Giurato has divided his time between Rome, Umbria and Tuscany for the past 15 years. He is the owner of Agriturismo Le Macchie in the Val D'Orcia - he has dedicated his life to the farmhouse and the cultivation, production and sale of its olive oil. Throughout his many years of experience, Andrea has developed the closely knit network of properties, services and people that make Your Tuscany. He has hand-picked each location, ensuring they all meet the high standards required of Your Umbria accommodations, and is close friends with many of the owners. He can offer you expert advice on the littlest details of your holiday, from the vineyards you wish to visit to bicycle rental and museum suggestions. He can assist you in planning an itinerary catered to your specific requests and connect you with a variety of local services. The advantages of traveling with Your Umbria are clear: when you enlist the help of a seasoned local, you experience Umbria as a local. Let us help you create Your Umbria.
Have you always dreamed of taking a vacation in Umbria?
Your Umbria will help you arrange the holiday of your dreams. With a variety of properties in many sizes, locations and prices, we can accommodate any request, from a large family reunion to an intimate honeymoon apartment just for two in Umbria's breathtaking beauty.
Are you searching for a holiday rental nestled in the quiet countryside?
Your Umbria offers you lodging in the heart of the Umbrian countryside, away from the stress and confusion of the city for maximum relaxation. Miles of cypress-lined foothills and olive groves offer serenity and some of the most spectacular views in Italy. While each of our properties has a rural location, they are all a short drive to grocery stores, local sites and villages.

Do you want to stay on an estate that produces wine, olive oil and other delicacies?
Your Umbria has a number of properties that produce specialty foods of the highest quality onsite. Umbria's olive oil and wine is internationally renowned, and many of our villas offer you the opportunity to sample the best of the land with your meals, often available to you at a fraction of its retail value. Your Umbria also features villas that are a short drive from villages famous for their culinary treasures.
Would you like to experience a centuries-old farmhouse in Umbria without sacrificing modern comfort?
Your Umbria assures that each villa offers its guests all of the modern conveniences that one would expect of a deluxe holiday rental - newly remodeled bathrooms, full kitchens, central heating in the winter and air conditioning in the summer. History is never sacrificed for comfort, however – each property has been restored with respect to its original structure, featuring antique furniture and often maintaining original wood beamed ceilings, colorful frescoes, stone fireplaces and stunning porticoes.

Do you desire the most exclusive of holidays in a luxury Umbria villa without having to lift a finger?
Your Umbria can arrange every aspect of your holiday, down to the minute detail. Would you like a personal chef to prepare you authentic Umbrian meals? Do you want an estate that features fresh Italian pastries made by the owners every morning? Would you like to book a hot-air balloon adventure before your arrival? Allow us to propose an itinerary based on your particular interests and make the necessary arrangements for you so that you can enjoy every second of Your Umbria.

Do you want to experience Umbria through the eyes of a local?
Your Umbria provides expert advice, insider information and local tips that only a native could give you. Allow us to show you out-of-the-way vineyards, private villas and itineraries that take you off the beaten path. Take it from us: planning your holiday with locals in the know is the only true way to experience Your Umbria for yourself!